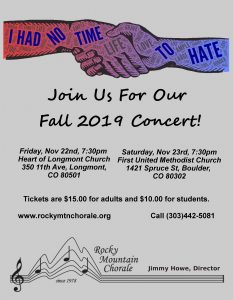 I Had No Time To Hate is a title borrowed from an Emily Dickinson poem that was set to music by Nathan Howe and inspires the Rocky Mountain Chorale's fall concert series exploring the human experiences of war and peace. You will hear dynamic performances of an array of exciting material, including William Byrd's I Will Not Leave You Comfortless, Do You Hear The People Sing from Boublil, Kretzner and Natel's "Les Miserables,"  Wray Lundquist's Johnny's Gone Marching, and a selection from Haydn's "Mass in the Time of War." This concert promises to engage, inspiring your mind and touching your heart. Don't miss it.
Here are some links where you can purchase tickets:
———————————————————
Founded in 1978, the Rocky Mountain Chorale (RMC) is one of the Boulder area's oldest community choirs. We are a mixed choir with over sixty active singers. Our repertoire includes classical, pop, and world folk music. RMC presents two major programs each year and and also sings at various community outreach programs.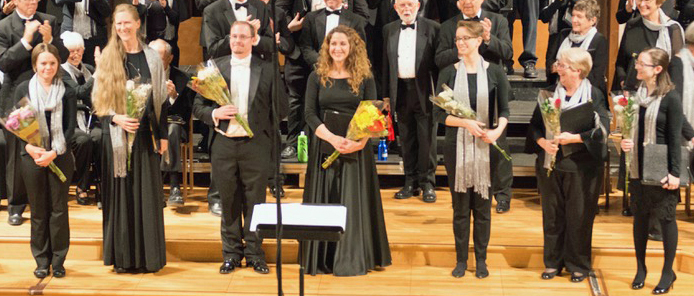 ---