Our fall 2016 concert was awesome! Now for some other things!

The Spring Season rehearsals begin January 9th. If you are interested in auditioning, go to our audition page here.
~~~~~~~~
There is one person who deserves a million Thank You's from the RMC! That is Kay Norris. Kay joined the chorale in Fall of 1989 as a first soprano. Her husband, Dave, joined in the Spring of 1989 and helped her with the things she has done for RMC. Here are some of the things she has done for the chorale:
1. She was/is our Librarian for more than 15 years. That means ordering or borrowing music, labeling it and distributing it, collecting it at the end of the season, having erasing parties to get the pencil marks out, and returning it to the lenders or our files.
2. She was a Board Member for numerous years. (She was on the Board when David served as President and Past President and for several other years besides.)
3. Served on Director Search Committees several times.
4. Arranged concert logistics with respect to tickets, ushers, etc. for many, many years.
5. Organized many concert receptions (finally passed that on to Carol Staples).
6. Handled Presale tickets.
7. Handled printing of tickets.
8. Proofed programs.
9. Handled and/or organized attendance.
10. Traveled to Portland OR and Ft. Hayes Kansas to pick up music (of course she and Dave planned it with other trips) as well as many places in Colorado.
11. Copied music.
12. Takes (and took) deposits to bank.
13. Served (and serves) as the phone message center for the Chorale.
14. Hauled risers.
15. Was Alto section leader.
16. Obtained podium for conductor and repaired and repainted it.
17. Arranged to have concerts recorded, had CDs made, and managed sales and distribution of the CDs.
18. Created and distributed chorale rosters.
There are probably other things she has done that nobody remembers. Bottom line is: Kay has always done whatever it takes to make the chorale a success. The hours and skills she has put in are phenomenal! THANK YOU, KAY!!!
~~~~~~~~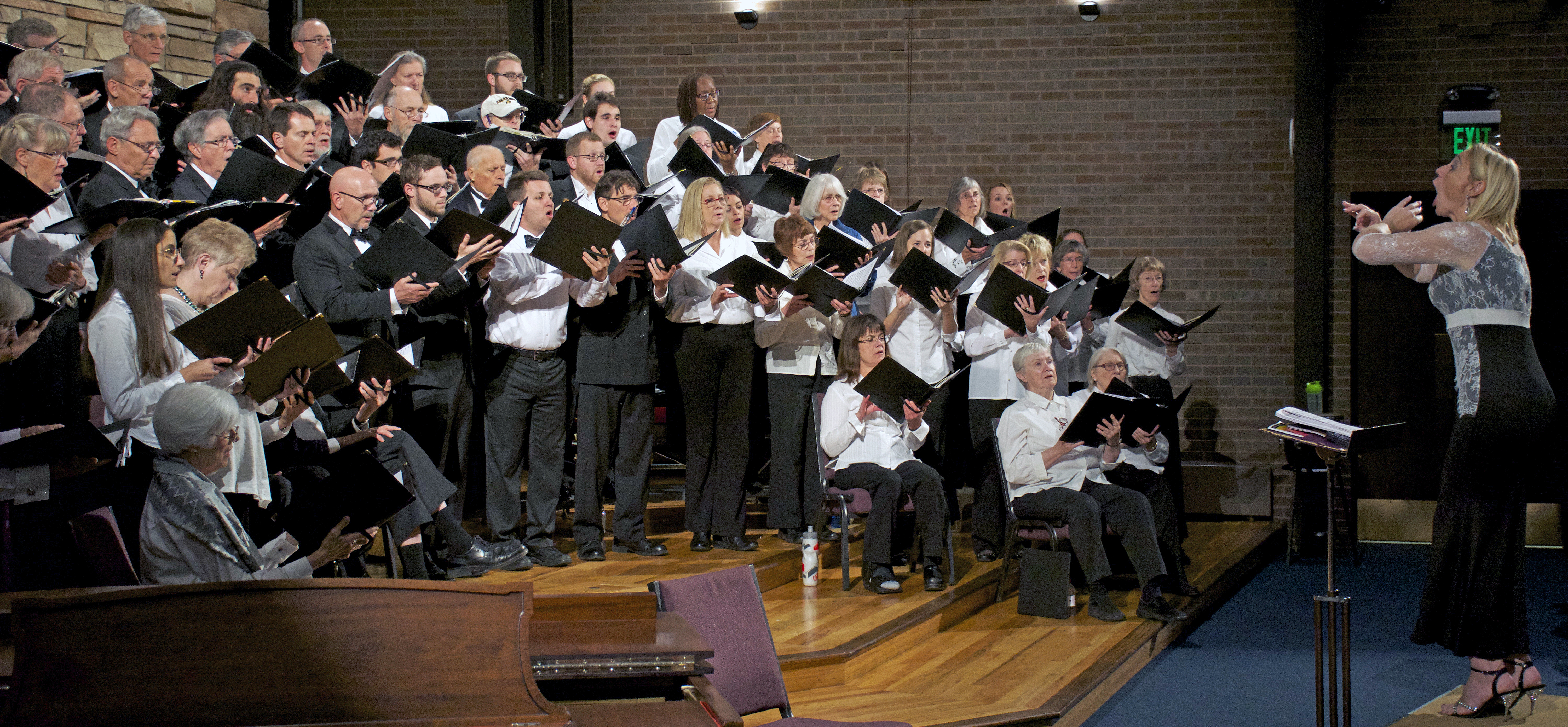 Founded in 1978, the Rocky Mountain Chorale (RMC) is one of the Boulder area's oldest and finest community choirs. We are a mixed choir with over sixty active singers. We employ a professional director, a professional accompanist, a professional associate director, and other musicians as necessary. Our repertoire ranges from African folk songs through modern American choral pieces to major classical choral works. RMC presents two major programs each year and and also sings at various community outreach programs.
---