Welcome to the Spring 2015 Season of the Rocky Mountain Chorale!
We start rehearsing for our spring show on January 5th. The concerts will be April 24th and 25th.
Below is a video of our popular Woodchoppers' Ball number in the last concert:
We also have some other projects in the works. Music for All, a volunteer group from the larger Rocky Mountain Chorale, is taking music out into the Boulder community. Below is a picture at Boulder Manor on Sunday, December 14th. Director Lisa Phillips is at the far left. These events are primarily at low income housing sites for seniors and people with disabilities. We go to people who are unable to attend our concerts or even our outreach programs. If you know of a group or an event that you would like us to sing for, please call Anna Kay at 303-604-1200.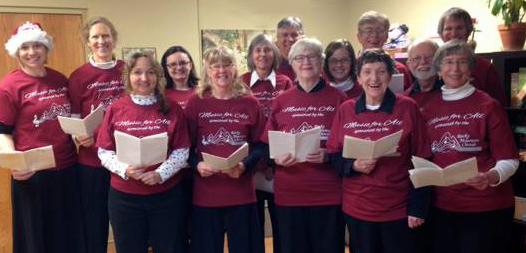 ——————————————————–
Founded in 1978, Rocky Mountain Chorale (RMC) is one of the Boulder area's oldest and finest community choirs. We are a mixed choir with over eighty active singers. We employ a professional conductor, accompanist, and other musicians as necessary. Our repertoire ranges from African folk songs through modern American choral pieces to major classical choral works. RMC presents two major programs each year and and also sings at various community outreach programs.